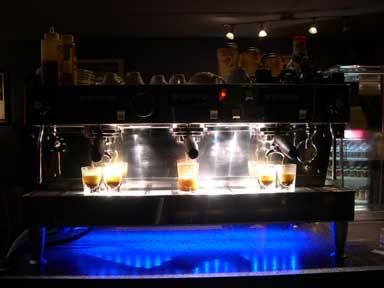 Finally, after months of pondering and weeks of actually trying to get it done, the lighting mods on my La Marzocco Linea 3AV are complete.
Whew!
As you can see, it's quite dramatic. The LED strips came in a couple of days ago and were installed right away. It just took a couple of days for me to get in the mood, wait for the right conditions and start my photo shoot with the Linea. And yes Auntie, that's Hines 'Spro flowing from those portafilters.
Thomas Keller - Eat Your Heart Out.
I dare you to do this with your Unics and your Illy Pods...
Cap ou pas cap?