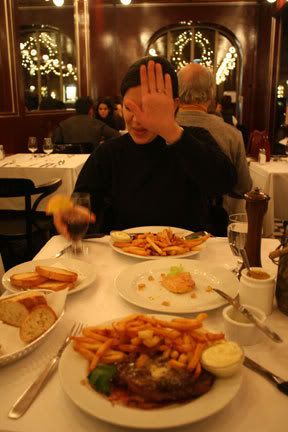 A Fine Woman, Fine Foie & Steak Frites - What more can a man ask for?
Montreal is a pretty city filled with French-speaking people, French things and, presumably, tasty French food. Montreal is a city known for its' food and its' people who have a fanaticism about good food. Heck, even the plain Sealtest butter is better than what we have in "The States."
Readers of this blog know that I'm a fan of French brasserie food with my frequent visits to Washington D.C.'s Les Halles. With that in mind, N. decided that I would enjoy L'Express.
L'Express has been noted as "the heart and soul of Montreal." Like Bistro du Coin, it's a busy place. Packed, usually. One needs reservations because it's so busy. Located in the Latin Quarter at 3927 Rue Saint-Denis, L'Express is decidedly red. If one imagines what a French brasserie is like, it must look like L'Express. Marble tables, old chairs, string lights, a long bar, stark walls that resonate audio, making it a noisy environment. The only thing missing are people puffing away on cigarettes and cigars (thanks to American-style Gestapo Lawmaking).
The menu is wide and varied, but a little odd for this American. They offer you two sheets of paper. The first has a litany of menu items that are listed in column order. The second is a handwritten menu with prices. At first, I didn't know what was going on. Was it like those diners back in America that have everything under the sun? That's when N. told me that the printed sheet had "all" their menus and the handwritten one with the prices was tonight's actual menu. I guess they're tempting you for future visits.
Like our Les Halles excursions, I wanted to go ballistic. "Bring it on!" I wanted to tell our waiter, but I didn't want to scare N., so moderation was the theme of the evening. But oh, how I wish I could have brought a large group and ordered everything on the menu. The steak tartare was so tempting. As were the mussels. In the end, I stuck with something a bit more sane: the foie gras and an order of Steak Frites.
Service comes and goes at L'Express. I wish they came by the table more often but the water glasses were kept relatively full and the orange wedges with my Coca-Cola were a nice touch.
Bread and butter is the mainstay of any restaurant experience and the butter was warm and ready to spread over the crusty and slightly crispy baguette. Soon, a large jar of pickeled cornichons appeared with wood tongs. These little cornichons are just perfect: slightly crispy without being soggy and nice and vinegar-y.
The first course was Foie Gras with prunes. I was expecting a sauteed dish but this one was a cold slice of foie gras with prune gelee. One can claim to "love" foie gras but it's the eating of cold foie that separates the lovers from the pretenders. Rich in its' fatty excellence, cold foie is not something that you can eat
en masse
or very fast. Served with toasted bread rounds, it's a sensuous experience, but too rich to eat in one sitting. I reserved a large hunk for my drive home the next night.
In seemingly no time, the main course arrived: Steak Frites. The cut of onglet was different than that of Les Halles. At Les Halles, their cut is butterflied creating a seemingly larger cut that (I think) cooks slightly better. The onglet was a simple preparation with salt, pepper and butter and served with perfectly fried Frites and a side of seasoned butter for topping.
N. hit the nail on the head. The food was wonderful. It was as good, but different, than eating at Les Halles and I can't wait for another trip to Montreal.