I spent my final day in Japan in Hiratsuka, a town about 50 minutes (by train) south of Tokyo, where I visited my kumu hula, Michael Dela Cruz to hang out a bit and learn new hula. For lunch, we ate crazy sushi at a local conveyor belt sushi joint and that night we went out for some real, authentic Wagyu (Kobe) beef.

Our waitress, Ayako, the Abunai Girl.
Kobe Beef. We hear so much about it in the United States. That it's "so good" and "so fatty." That they massage the cows. They feed them beer. They sleep on real linens. In America, there's something known as "American Kobe" and evidently, those are cows that have been bred from stock imported from Japan. I've tried Kobe Beef and it's been, well, okay. Nothing spectacular, just good meat.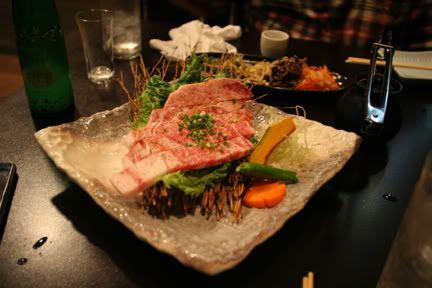 The first course - Just look at all the fat! I think it was a ribeye.
If American Kobe is your only experience with Kobe Beef and you haven't tried the real Wagyu from Japan, let me tell you: you're missing out.
I will state it now: there is nothing, and I mean NOTHING, like true Wagyu. It's rich. It's fatty. It's succulent. It's magnificent. It's absolutely, unbelieveably UNREAL.
And we just went to some local joint.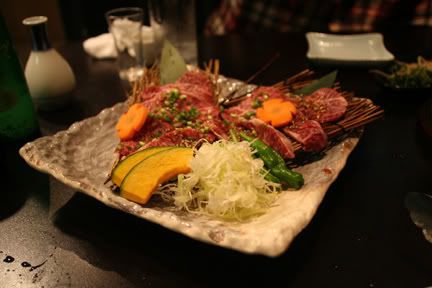 Course Two - More meat. This time served on bamboo branches with veggies.
From what I could gather, there are different grades of Wagyu, with A5 being the best cuts, the most fatty cuts. Michael's mother-in-law chose this place because they only serve A5 and Thank The Lord for that woman and her choice.
I'm not converational at Japanese - and these people couldn't speak any English, so I let "mama" do all the selections and she
went to town!
It seemed like she ordered everything on the menu. By the end of the meal, I was wasted. I was stuffed. I should have been ill.

Course Three - Tofu salad with white asparagus. Nice!

Course Four - Another salad. Greens with sesame dressing.
It was just waves and waves of meat, and the occasional grilled crab legs, kim chee, veggies, salad and ice cream thrown in for good measure. And when the waves of meat stopped, another wave of Wagyu Sushi came as a pre-dessert course. Holy crap, was that good!

Michael, Mayumi and our grill.
Preparation was simple. The meat was sliced and served raw for you to cook
yakiniku
style. They plop down a big bowl of hot charcoal and you cook it to your desire. Mama was serious about not cooking the meat too much. Just a nice medium to keep it juicy and fatty.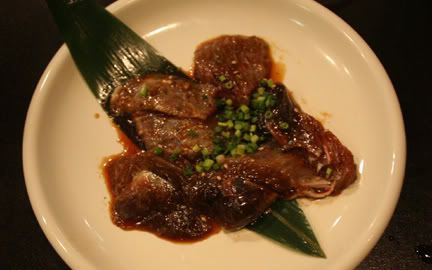 Course Five - Next we veered away from beef to another red meat: marinated tuna.
And fatty it was. By the end of the meal, my body was reeling from the succulent fat. I could handle no more. And then the sushi came. It would have been disrespectful of me to say no. So I said yes, three times.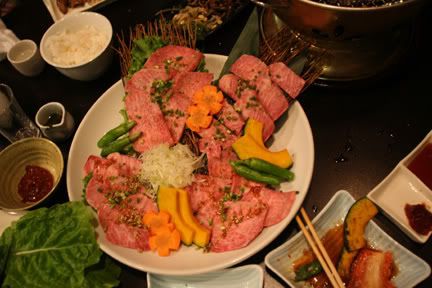 Course Six - Still more meat. This time with some lettuce, cucumber and sauce to make little wraps.
There's no way to accurately describe the experience. Once cooked, just a little sauce or none at all and eat with rice. Simple. Beautiful. Perfect. No need for all the additives and seasonings. Just beautiful meat left to be experienced at it's best as God (or Buddha) intended it.

Course Seven - Another diversion with some grilled crab legs. Amazing.
Words won't do it justice. I'll let the images speak for themselves. If you haven't had Wagyu then, by all means, rush out an find some. I've got a line on a Wagyu wholesaler in Los Angeles. It's roughly $800-900 for nine pounds of ribeye. It's not cheap, but it's certainly cheaper than a twelve day visit to Japan. Of course, the 12 day visit does have it's benefits...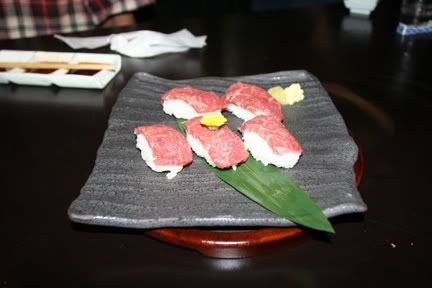 Course Eight - Wagyu Sushi, nigiristyle. You mix the ginger and horseradish with soy sauce for the dip. I could just cry.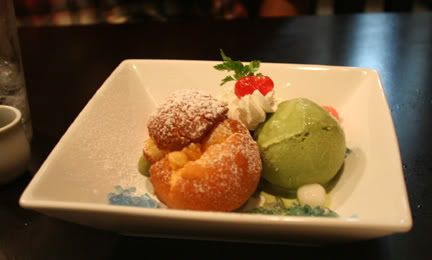 Course Nine - Green Tea ice cream with cream stuffed profiterole.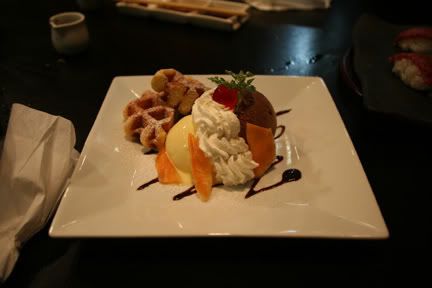 Course Ten - End Game - Chocolate and Vanilla ice cream, served with dried mango slices, whipped cream and Belgian waffles.
Don't know the name of this place, but if you ever get to Hiratsuka, let me know and I'll direct you to this place.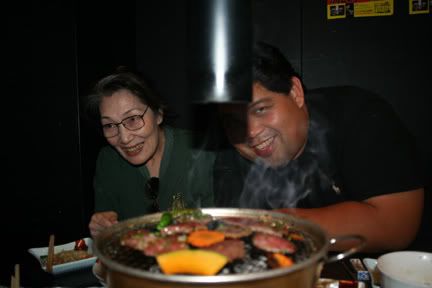 "Mama" and me on our side of the grill. One thing I do have to say is that this "mama" warned me off of the abunai girl and knew a lot more about soaplands and the darker side of nightlife than I ever expected a "mom" to know (or at least talk about).