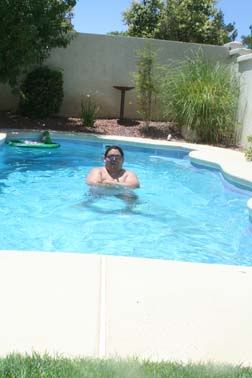 Commandeering the pool with my PG Belicoso Maduro.
I've been in Vegas for the past few days where I've commandeered my cousin's house in Southwest. She's got pretty phat pad with a pool, granite countertops, plasma, surround sound, leather and more in a gated community with security - kind of reminds me of some of the places I stay in Manila.
Speaking of which, I must say that this is truly a wonderful life. Over the past nine months Vegas has become one of the places that feels like home. It's a place where I always have a place to stay for as long as I wish, filled with friends and family and giving a real home like feeling - even when everything surrounding you is fake (including the breasts).
It's been a good trip. My house here is almost completed, meaning that it will soon be time to start paying a mortgage. Better find someone to rent this four bedroom home soon. Spent a day at the CoffeeFest trade show. Like most CoffeeFests, it was small - and since it was being held in the gargantuan Las Vegas Convention Center where I've attended the Consumer Electronics Show and the Magic Fashion Show, CoffeeFest looked downright pathetic in size. Overall, I didn't spend much time at the show - the vendors that I really wanted to see, like Fetco, ESI and EPNW weren't there so I didn't get much accomplished.
I spent most of my time hanging out with friends and family. It was good fun but one thing I'm learning is that I have a tough time with Aquarius women. On the larger scale, I think there's a definite attraction, but Aquarius women are too hot and cold for me. I'm the Aries sort of guy who knows what he wants and wants to get things moving right now. My interest doesn't wane on a day to day basis. Aquarius women give you their attention one day then it's as though they forgot about you the next, then on the third day they want to know why you didn't call them to come out. Hello - you said that you had plans and blew me off anyway... After my experiences with the Aquarius at home and here in Vegas I think I should avoid meeting more Aquarius women. It's too maddening for my tastes.
And to the Aquarius at home, it's summertime so let's pick up the pace a little. I understand you work hard but a little time for me would be appreciated.
I'll be back home tonight.