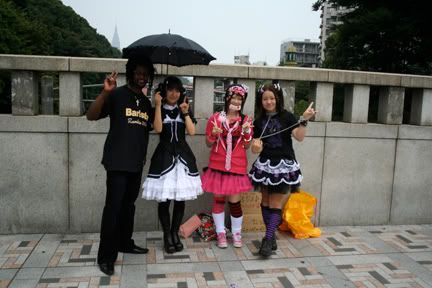 2007 Zambian Barista Champion, Francis Njovu, and the real Harajuku Girls of Yoyogi Park.
Every night before I lay myself down to sleep I think about writing to this blog to keep the blog updated on my Tokyo adventures. Then, as it is every night, I realize that I'm just wiped out, stinky and generally worked that I take a hot shower, crawl into bed and am knocked out in under two minutes.
It's been a whirlwind adventure here. Non-stop action. Food, coffee, friends, touring, shopping, partying, chicks, hot chicks, more partying, more food and then more chicks. It's been so exhausting that I'm literally falling asleep at the table.
I'm in Tokyo for the World Barista Championship where I spent four days doing station prep and maintenance on the big stage. Four days of early mornings, long days and late nights of partying, drinking and meeting old and new friends from all over the world.
In case you didn't know, or don't follow the competitions, James Hoffman of the United Kingdom has won the World Barista Championship. It was a stunning victory, upsetting the Scandinavians (who typically dominate the competition) and swiping it away from American Champion, Heather Perry. Drama and intrigue prevailed.
There's so much to report and I'll have to follow up at a later date when I have the time and energy to focus, write and edit photos.