Sliced potatoes fried in duck fat? Sounds like my kind of place. I originally wasn't planning on visiting Hot Doug's (in spite of the insistence of more than a couple of friends in the know), but since I crammed the NRA show into one day (and was thoroughly exhausted to boot), I decided to gallavant around Chicago a bit.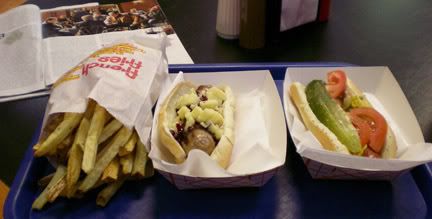 Trifecta: French Fries, Rattlesnake Sausage & Chicago Hot Dog.
Woke up with sore muscles from my 24 mile odyssey at the National Restaurant Show and maybe because my friends have been encouraging me to visit, or maybe because I'm just a sissy who's afraid of another day on the show floor, I decided to blow off the NRA Show and do a brief tour of Chicago's food and coffee joints.
Duck Fat Fried French Fries...Jesus, that's gotta be the Touch of God. Problem is, they only serve those duck-i-licious fries on Fridays and Saturdays.
Today is Monday.
Lame.
Everyone that has recommended Doug has tales of long lines and encouragement to "go early" when they open at 10:30am. That was my intention but lounging around the hotel room is so delicious that I didn't get their 'til 11:30am.
No worries, parking was easy and there were only two people ahead of me. Lucky me.
Doug's got a selection of encased meats, from the hot dog to Italian sausage, Polish sausage, corn dog, hot sausage and his own encased meat selections. There's also a featured dog of the week for the adventurous to try.
Today's "game"?
Rattlesnake Sausage.
Whoa, rattlesnake, you say? That was my reaction too.
Smoked Rattlesnake Sausage with Black Currant Mustard and Vodka Currant Cheese.
I'll admit, I was kinda put off by this turn of events. I almost didn't order it. Then I reminded myself that "this is not a dress rehearsal" and decided to "go for it."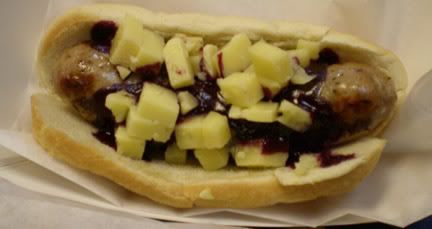 Rattlesnake Sausage with Black Currant Mustard and Vodka Currant Cheese.
There's something ironic about a rattlesnake sausage. First off, what is a "rattlesnake"? Basically, it's encased meat that "snakes" its' way across the ground. So, for a naturally encased meat to be ground up and then re-encased as a sausage seems ironic and comical to me. At least in the latter version, it doesn't make noise and won't bite me with deadly venom - a plus in my book.
The place is small-ish. There's a bunch of faux wood formica tables and small cooking line where a couple of sausage cooks keep things going, with a self-serve soda fountain to their backs and a podium-like spot facing the door where Doug Himself holds court.
Doug's a short guy, about 5'6" wearing dark rimmed glasses and short dark hair. He stands there, taking orders and making chit chat with the regulars and the tourists (like me). Some of the more dense of the tourists (like myself) ask: "Are you Doug?"
Not if you're a process server.
Ah, a kindred soul at last.
The menu is varied with all sorts of hot dog and sausage combinations with cute names, like the sausage formerly known as the "Lucca Brazzi" (no fish) or the "Britney Spears" (maybe
tuna
).
Standing there, you get the feeling that this place might be like Pat's Steaks in Philly - where you're expected to know how to order properly, otherwise Get The Fuck Out Of The Line. There's certainly a bit of intimidation here - especially with all the locals who know how to order exactly what they want. It's compounded by the fact that the menu items all look tasty and you know you
really shouldn't
eat them all.
In the end, Doug was friendly and accommodating to this wide-eyed tourist who ordered the Rattlesnake, the traditional Chicago style hot dog, and order of fries and a Coke. There's two sizes of Coke and Doug steered me to the smaller size and told me that there's free refills so just get the smaller one. I certainly appreciate that kind of hospitality.
So how was the food? In a word: good.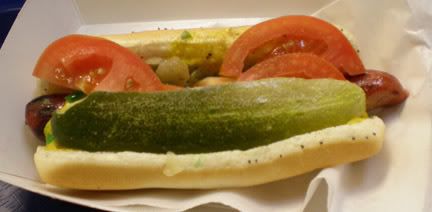 The Chicago Hot Dog.
I'm really getting into this Chicago-style hot dog thing. It's so different than the Sabrett New York hot dog, but so interesting with it's celery salt, onions, tomato and muther-huge pickle. God knows what a pickle is doing on a hot dog but it's damn good.
The fries were wonderfully done. Blanched and then deep-fried. You can tell just by eating them. They know how to do frites right. God Bless that Doug and death to the fabled process server who wants to take him away.
But what you really want to know is about the rattlesnake. Was it good? Was it bad? Did I start to hiss like I was in a Harry Potter movie? It was good. The meat had great texture and a slight spiciness to it. It was grilled and that was lovely. The black currant mustard and vodka currant cheese were an interesting combination that grew on me as I bit more into the snake.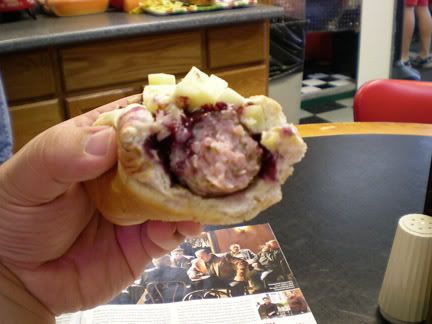 The Rattlesnake Gets Bitten, Bitch.
The rattlesnake, currant and vodka was a combination I never would have thought about and a perfect example of why one must run to Hot Doug's. It's taking something as lowly as the hot dog and sausage - fare usually reserved for griddling with peppers and onions at the neighborhood street fair - and turning it into something new and original. It's taking it out for a drive and never turning back. It's raising the lowly encased meat to a culinary delight.
Run, Run, Run, young gourmand!
And beware the process servers...