When I was trying to figure out how difficult it would be to obtain a reservation at Charlie Trotter's, Jay Cunningham suggested Alinea as an alternative. At the time I knew nothing about Alinea or it's chef, Grant Achatz. A little internet research yielded some dramatic results. Started at Trotter's, worked at The French Laundry, staged at El Bulli and then was Sous Chef at French Laundry before heading off to Chicago to first work Trio and then open Alinea.
Read the experiences on eGullet if you want to know more about the ambience. It's modern and refined and everyone is sharply dressed. The open kitchen with its' modular design is just gorgeous. It has quickly become the inspiration for the modular design of Nail Salon Espresso.
But I'm getting ahead of myself.
After the completely fabulous (and expensive) meal at Trotter's the night before, I was about to leave my hotel room with $300. Then I thought better of it. Perhaps I'll need another hundred, just in case. Tucked another hundred into my wallet and I was off with $480 in my pocket. That's $400 for the dinner and $80 for cab fares and incidentals. Plenty of cash for this Bling Bling Barista.
Forget the extaneous stuff. You can read about the layout, design and ambience on the Internet. Let's get right to the nitty-gritty. Everything you've heard about Alinea being one of America's cutting-edge restaurants is true. The food is wild. The food is good. The pairings are tasty and subtle. There was no blasting chorus of wines like at Trotter's. Everything just fit nicely together in a smooth and subtle symphony. My team of captain and sommelier were wonderful. Everyone in the dining room spied on each others' tables to see either what was coming or fondly reminiscing about that same dish.
Originally, I had planned on dining with Bronwen but when her flight from the West Coast was cancelled due to Chicago weather, I ended up dining solo. They graciously accommodated me at a luscious dark walnut table as I sat on the wall-length couch, arms propped with pillows. How nice.
You have a choice at Alinea. Some sort of short menu or The Tour. Of course, having travelled all this way, I was choosing The Tour. Then there's the wine pairings - $85 for the short pairing or the same amount as The Tour for The Tour Pairing.
The Tour is $195. The Tour Pairing was an additional $195. A quick head calculation and I was glad I brought that extra Franklin. The Grand Tour it would be.
And here it is, The Grand Tour as it was presented to me on Sunday, Februrary 25, 2007:
Note: if the course was paired with a wine, that wine is listed below.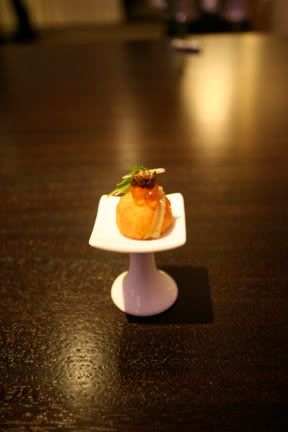 Croquette - Smoked steelhead roe, several garnishes
Chartogne-Taillet "Cuvee Ste-Anne" Brut with Pineau des Charentes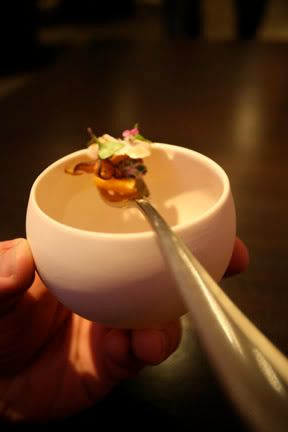 Octopus - shiso, papaya, toasted soy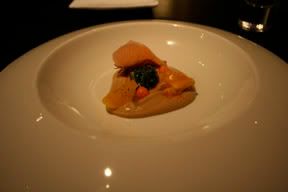 Chanterelle - Carrot, curry, ham
Quinta do Alqueve Fernao Pires, Ribatejo, Portugal 2005



Apple - horseradish, celery
An encapsulation of the celery juice inside a horseradish sphere sitting in apple juice. Trippy.


Monkfish - banana, onion, lime
Vincent Danver Chassagne-Montrachet ler Cru "La Romanee" 2004
This one was three preparations of monkfish - poached, fried and mousse.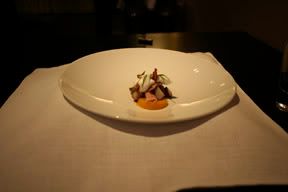 Duck - mango, yogurt, pillow of juniper air
F.X. Pichler Gruner Veitliner Smaragd "Loibner Berg", Wachau 2004

Just wild. Get close and smell the juniper as it emanates out of the pillow.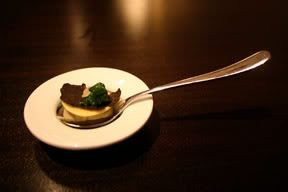 Black Truffle - explosion, romaine, parmesan
Far out. The truffle juice explodes out of the ravioli onto your tongue. One of the most gushed about courses on eGullet.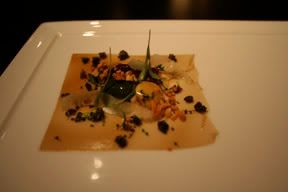 Short Rib - Guiness, peanut, fried broccoli
Paolo Bea Montefalco Rosso Riserva "Pipparello", Umbria 2001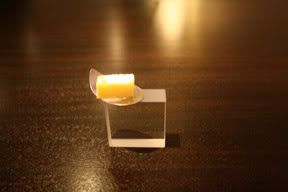 Yuzu - frozen and chewy


Chestnut - Blis maple syrup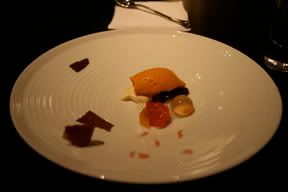 Persimmon - brioche, mace, grapefruit
Weinbach Gewurtztraminer "Altenbourg" Vendanges Tardives, Alsace 2003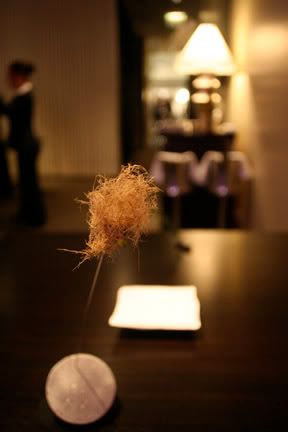 Licorice Cake - muscovado sugar, orange, anise hyssop

Definitely the wildest preparation.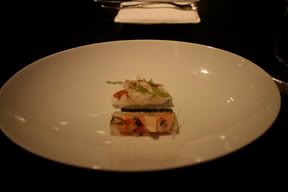 King Crab - vinegar, aromatics, rice
A.R. Lenobie "Rose Millesime" Brut, Damery 2000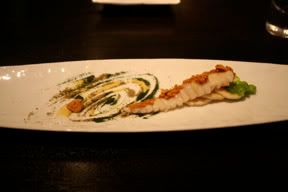 Skate - caper, lemon and brown butter powders
Francois Villard "Terrasses du Palat" Condrieu, N. Rhone 2004

That swirl that looks like the galaxy were the powders. Mind-blowing.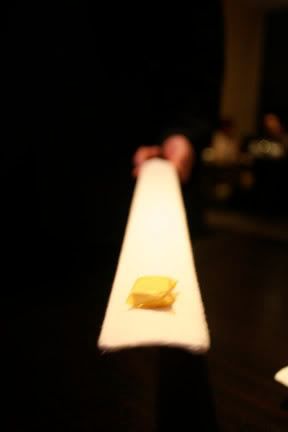 Pineapple - bacon powder, black pepper



Lamb - date, mastic, rosemary aroma
Jean Royer Chateauneuf-du-Pape "Hommage a mon Pere" S. Rhone 2001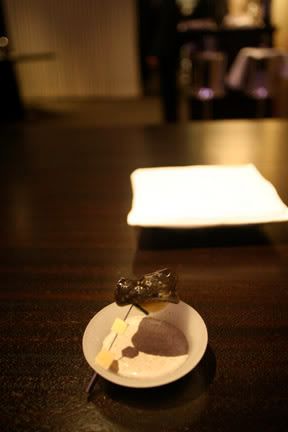 Hot Potato - cold potato, black truffle, butter


Venison - encased in savory granola
Azelia Barolo "San Rocco", Castigilone Falletto 1998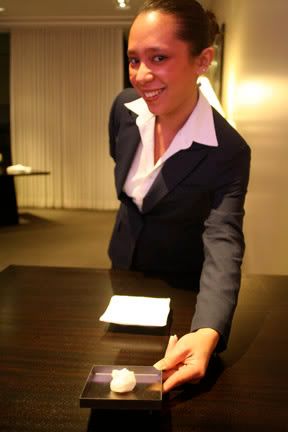 Foie Gras - spicy cinnamon, apple pate de fruit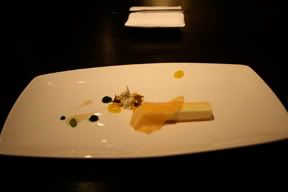 Orange - olive oil, green olive, almond
Disnoko Tokaji Aszu "6 Puttonyos", Hungary 1997


Coconut - saffron, kiwi, cornmeal
Cavalchina "Le Pergole del Sole" Muller-Thurgau Passito, Veneto, Italy 2003

Notice the translucent brown jelly on the right corner. It was a roasted corn gelee and it rocked the house.
Chocolate - passionfruit, kaffir lime leaf, soy
Abbazia di Novacella Moscato Rosa "Praepositus", Alto Adige 2004
- I apologize about this course. I guess I got so carried away (not to mention blitzed on the flowing wine) that I must have forgotten to snap a photo.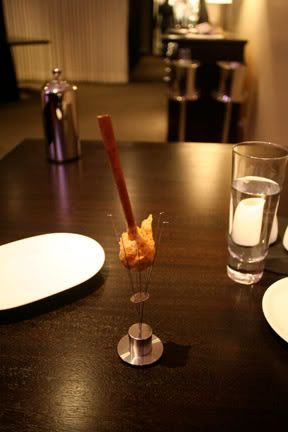 PCaramel - meyer lemon, cinnamon perfume

That's it. That was the complete 23 course Tour at Alinea. Grant wasn't in that evening but the food was wild. The utensils were wonderful and that roasted corn gelee rocked the house. Twice. Somewhere along the way, I enjoyed some sort of bottled water and a sort of French pressed coffee from Intelligentsia. I say 'sort of' because even at this grand restaurant they still don't quite "get" the nuances and finesse of great coffee.
The dining room was full when I arrived so I mainly kept to myself and tried to snap the pics as unobtrusively as possible. The friendly ladies dining next to me asked if I was a food critic. Perhaps I should have said yes. Then again, I later noticed the couple across the room snapping images of their meal as well. Just label me "tourist."
I ended up being the final diner in my dining room which allowed me to actually chat with Olivia, the captain and Scott, the sommelier and ask them their thoughts on service and their experience working in one of America's top restaurants. Passion and commitment to service seemed to be the predominant thought. Throughout the evening the service was friendly but reserved and respectful. I think I would prefer service slightly (and I do mean slightly) more colloquial, but that's a personal preference on the way I would like to be treated and not a criticism on their approach.
In the end, I was glad that I brought the extra hundred, but distressed that I didn't bring another hundred. Here's the breakdown of my bill:
Menu - $195
Wine - $195
Bever - $8
Sub - $398
10.25% tax - 40.80
Total - 438.80
Now remember, I only had $480 in my pocket, lose $30 for the round-trip cab ride to and from Alinea and that leaves me with $450 in cash. Quite a bit short to cover the tip. Ended up charging $100 to my credit card and covering the balance in cash and I spent a total of $540.00 on dinner for one.
Holy Crap.
This was easily the most reckless dinner I've ever spent money on. Five Hundred and Forty Dollars. I must be insane. There must be something wrong with me. Yes, it was a business trip. An exploration into understanding the level of service and approach to service at the top echelons of the hospitality industry. But it was expensive for a dinner. True, it was cheaper than the Culinary Boot Camp at the Culinary Institute of America. But it was an expensive dinner.
But was it worth the Five Hundred Dollars? That is the question.
It was absolutely one of the wildest meals of my life. I'll say that for now and leave the analysis to another post.