Ever since I read the book
Lessons In Service from Charlie Trotter
I've been intrigued to eat at his restaurant. His approach to service and hospitality, not to mention food, seemed beautiful. Servers in suits, attentive service and top quality food. It was a scene made just for me to dine.
The weather in Chicago was crappy that weekend. O'Hare had been shut down and our friends from the West Coast just didn't make it. Had I not left Baltimore on the 2pm flight, I would not have made it to Chicago and my visions of dining grandieur would have been flushed.
But that was not the case and I found myself, along with Barista Matt, on our way through the snow to the remodeled rowhomes on West Armitage. Two short than our reservation for four, we hung out a bit by the bar while they arranged our table then we were on our way.
The decor is refined and tasteful. Subdued incandescent lighting produces a warm light that puts you at ease - even though the dress code requires a coat. But I guess it would be weird if the staff was dressed nicer than the guests. Luckily I brought a comfortable jacket.
Won't waste time chatting about inane subject matter, it's time to get to business. The Grand Menu of 8 courses was $175. The wine pairing was an additional $85. Both Barista Matt and myself went with the Grand Menu and Tasting.


Artic Char with Savoy Cabbage & Mustard
Henriot "Blanc Souverain - Pur Chardonnay" Brut NV



Four Story Hills Farm Avian with Poached Egg, Truffle Chutney & Pumpernickel Crisp
- Santiago Ruiz "O Rosal" Rias Baixas 2005
Okay, I'll say it now. The poached egg blew me away. Poached for ten hours at 40C. The texture was immaculate. It was sublime. It is almost impossible to describe the mouthfeel and the exquisite texture and how I dream of an egg such as this.


Japanese Tai with Grapefruit, Clams, Shima Mikan & Pink Peppercorn
Monthelie "Premier Cru - Chateau Gaillard" Domaine Annick Parent 2002
My first real experience with foam and it was, well, weird. Don't think I like the foam thing. Nothing of substance - just fleeting.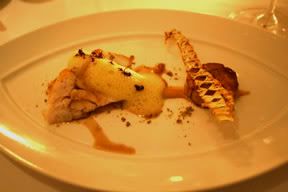 Roasted Monkfish Tail with Parsnip & Iranian Pistachio Emulsion
The roasted tail was wild. Who would have thought of this? Kinda like strange crisps. Crunchy. Interesting. And kinda tasty. Wonder how it would go with salt and a Coke.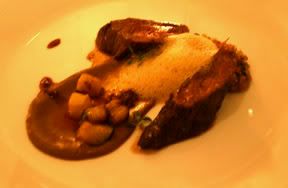 Axis Venison Loin with Quinoa, Black Cardamom Mole & Ash Baked Eggplant
Felton Road Pinot Noir, Central Otago 2004
The venison was good, but the Pinot Noir was BAM! Bangin'! A beautiful pairing of bold flavors. Amazing.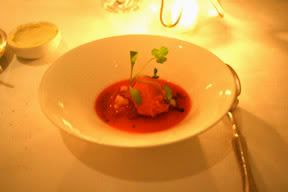 Grilled Blood Orange Sorbet with Jicama & Cilantro
Seven Hills "Pentad" Walla Walla 2003
Again, the wine pairing was BA-BAMM! Fuckin' rockin'.



Organic d'Hiver Pears with Carmelized Endive & Burnt Hickory Syrup Ice Cream
J.J. Christoffel Erben "Urzinger Wurtzgarten" Riesling Eiswein, Mosel 2002
Eiswein - BAM! Again. Who is this sommelier and why won't he let up? I need more. Easily the most challenging dish of the night. See that white sauce second from the left? It was some sort of cheese sauce that was just challenging. Here's this sweet dessert kind of dish with this savory, salty kind of cheese that totally clashes with the sweetness and you're trying to find its' meaning. Challenging. Amazing.
Later, 2003 Barista Champion Heather Perry would ask me over breakfast - if I had experienced this dish anywhere else, would I have hated it outright or did I like it (or try to like it) merely because I was dining at Charlie Trotters?
Great question and I still don't know the answer.


Chocolate, Tea, Caramel
Warre's Late Bottled Vintage Port 1995" Brut NV
Oh, LBV 1995 - now you're killing me. Who keeps this stuff? If it was mine, it would have been long gone. Barista Matt couldn't get enough and asked for another round of chocolates. Didn't know you could do that! But I was pleased.
Easily one of the best meals I've ever had. The flavors were rich. The textures were varied and the wine pairings were the best I've ever experienced. A true compliment to the food. I've never experienced that before. Amazing.
The service was top-notch and everything I had hoped for after reading the book. Barista Matt asked to tour the wine cellars, so into the recesses of Trotter's we went. Down, down,down, past the kitchen, past the locker room and into the cellar where I came face to face with a mid-20th Century Petrus. Amazing. If only I understood wines more...